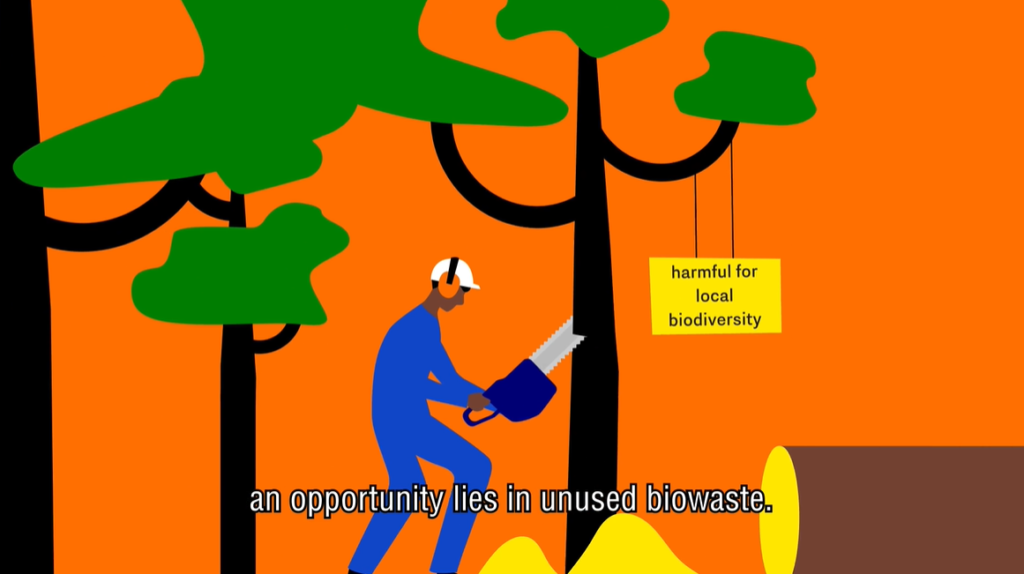 There are many opportunities in South Africa to use harmful and surplus biomass in a sustainable way. To this end, a collaboration between Dutch and South African companies and organizations started almost three years ago. In order to get a concrete picture of what is achieved wirh this value chain cooperation in South Africa around woody biomass, a short animation film has been made.
In just over two minutes, the animation film outlines the importance of this international value chain project, how you can set up this biomass chain and what the positive effects might be. In South Africa, there are many invasive trees such as eucalyptus and pine trees that threaten the local water supply. In addition, considerable amounts of residual flows such as branches and sawdust remain unused in forestry. By cutting. collecting and processing them into usable chips and pellets, they can be used as raw materials for power plants, as biofuel for transport and as clean fuel for cooking stoves. This provides local investment opportunities, employment and environmental benefits.
Knowlegde bioenergy
The Netherlands a lot of knowledge about bioenergy and companies with experience in the (Sub-Saharan African) biomass chain. This knowledge and experience has been bundled in the partnership Partners in International Business. This has led, among other things, to a South African – Dutch biomass knowledge platform, the purchase and restoration (in progress) of a pellet factory in Port Elizabeth, biomass testing and studies into biomass availability, and expected CO2 reduction and job creation.
Joint effort
All of that is reflected in the animation. The animation film was created through the joint efforts of RVO, which supported the consortium, and PIB coordinator Partners for Innovation. Finco Fuel, Yilkins, ACE, Control Union and Futerra were part of the consortium, with iLive as Liaison and the Dutch embassy in South Africa as supporter.
Click here for the video.